MODIFIED PRODUCTION CARS        C  103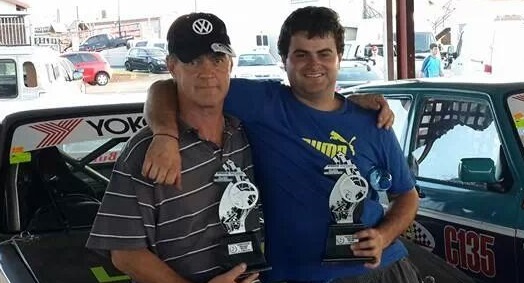 Car:                                                   VW GOLF MK1
Team name:                                    GRD MOTORSPORT
Sponsors:                                        EV DYNAMICS
Car prepared by:                            GILES DARROCH
Marital status:                                 MARRIED TO JEANETTE
Children, Name and ages:            GILES   24 years
Home town:                                    BENONI
Started racing:                               2013  (2 HOUR AT PHAKISA)
Clubman's Association, since:     2014
Favourite track:                              PHAKISA
Why did you start racing:              PITCREW FOR NEIL DUNNERCLIFF,  FRANCO DI MATTEO AND MARK ALLISON, AND HELPING MY SON GILES
What type of racing do you follow?  ANYTHING WITH 2 WHEELS OR 4 WHEELS. 
Favourite F1 team?                            FERRARI
Favourite Int. racing driver?            VALENTINO ROSSI
Favourite SA racing driver?            GILES DARROCH     –    LOL
Favourite Int. race track?                ISLE OF MAN
Favourite food?                                PASTA
Favourite drink?                              COKE
Your 1st car?                                    MINI 1000   –  16 YEARS
Your 1st racing vehicle?                KART – 100CC STOCK PCR
Current road car?                           HONDA S2000 & SUZUKI GSXR750
Dream car: a  Everyday:                 AUDI RS 4
                    b Sport:                        HENNESSY VENOM
Favourite sport:                             SAILING
Best race and why?                       FIRST RACE EVER AT MIDVAAL 1st FOR THE DAY
What would you say about yourself and your racing? ENJOY RACING, ALWAYS PREPARED TO HELP OTHERS AT THE TRACK WHERE I CAN. 
Contact details   Cell:                 083 638 0501
                              e-mail:            darroch@absamail.co.za